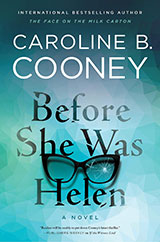 Poisond Pen Press, 2020

You'll enjoy reading:
Before She Was Helen
When Clemmie goes next door to check on her difficult and unlikeable neighbor Dom, he isn't there. But something else is. Something stunning, beautiful and inexplicable. Clemmie photographs the wondrous object on her cell phone and makes the irrevocable error of forwarding it. As the picture swirls over the internet, Clemmie tries desperately to keep a grip on her own personal network of secrets. Can fifty years of careful hiding under names not her own be ruined by one careless picture?
And although what Clemmie finds is a work of art, what the police find is a body … and she was the last person at the crime scene, where she left her fingerprints. Suddenly thrown into the heart of a twisted investigation, Clemmie finds herself the uncomfortable subject of intense scrutiny. And the bland, quiet life Clemmie has built for herself in her sleepy South Carolina retirement community comes crashing down as her dark past surges into the present.
Recognition
Edgar Award nominee
Reviews
"As Before She Was Helen opens, readers are drawn into what appears to be a light, retirement-community caper. But author Caroline B. Cooney quickly flips expectations upside-down in this deceptively dark mystery. Between old crimes and fresh murders, septuagenarian protagonist Clemmie faces an unspeakable fear that will keep readers hooked in this twisty whodunit."
—Julie Hyzy, New York Times bestselling author
"In this mystery, Cooney gives us Clemmie—a senior citizen living a long deception, who fights back with intelligence and courage against dangerous foes, both present and past. Before She Was Helen is an emotionally rich page-turner about the lives we want—and the lives we make."
—Jeff Abbott, New York Times bestselling author of Never Ask Me
"Caroline Cooney's Before She Was Helen is a clever whodunnit featuring an immensely likable septuagenarian heroine with a tragic past. Cooney is deft at weaving together the mysteries of a fifty-year-old cold case murder and a still-warm body at a retirement community, slowly unveiling a slew of possible motives and suspects for both crimes. Loaded with action, fast-paced, and offering a series of emotional punches, this book will leave mystery lovers wanting more."
—Carter Wilson, USA Today bestselling author