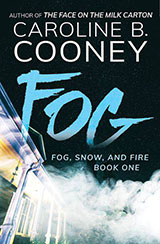 Scholastic, 2001
You'll enjoy reading:
Fog
(Book 1 in the Fog, Snow, and Fire series)
Four children—Christine, Anya, Ben and Michael—are attending high school on the mainland. The new principal, Mr. Shevvington, and his toady wife have offered to board all the children from Burning Fog Isle for the school year. The islanders know that the mainland kids will pick on them, but that trouble pales as Christine becomes aware of something evil: Anya seems to be going mad, and Christine is sure that the loathsome Shevvingtons are behind it.