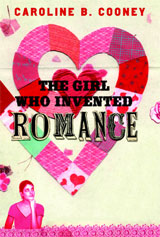 Bantam, 1988
You'll enjoy reading:
The Girl Who Invented Romance
When 16-year-old Kelly Williams's best friend, Faith, declares that she will stop playing games and find a real romance, Kelly watches from the sidelines and takes note. She sees Faith, as well as other friends, her brother, and even her parents attempt to play the game of love in their own unique ways. Kelly decides to create an actual game—one that captures the way people behave—and in the process it teaches them a thing or two about what can be considered winning when it comes to matters of the heart.
Reviews
"This is not new territory to any fan of the romance novel, but Cooney writes with such clarity of her characters' entanglements that she brings fresh perspective to the game."
— Publishers Weekly