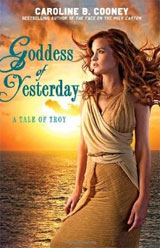 Delacorte
Random House, 2002
You'll enjoy reading:
Goddess of Yesterday
The dramatic and bloody siege of Troy is one of the oldest and best of human stories, and in Goddess of Yesterday Caroline Cooney tells it afresh through the eyes of Anaxander, the daughter of the king of a tiny Greek island. As a child she is taken as a hostage to the island of King Nicander. When she is 13, marauding pirates sack the palace, killing everyone but her. When she is rescued by the ships of King Menalaus, she assumes the identity of a princess, Nicander's daughter, and becomes a royal guest. When Menalaus's cold and vain wife, Helen, runs off to Troy with her lover, Paris, Anaxander goes along to protect Helen's baby son. The characters of the Iliad come vividly alive in this action-filled novel: the shallow and amoral Paris, the wailing prophetess Cassandra in her tower prison, and especially Hector, a big, straight-talking sweetheart.
Awards and Recognition
ALA Notable Books for Children 2003
Bank Street Josette Frank Award 2003
Josette Frank Award 2003
Junior Library Guild selection
New York Public Library Books for the Teen Age
Texas Lone Star 2003-2004
Utah Beehive Book Award Nominee 2004
Reviews

"a compulsively readable story"
—Publishers Weekly, starred review

"Characters from the Iliad, the Odyssey, and much of Greek tragedy make appearances in Anaxandra's tale, one that is as vivid as her red-gold hair. Teen readers will be mesmerized."
—Kirkus Reviews, starred review