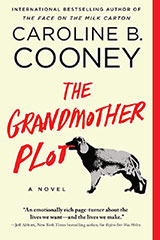 Poisoned Pen Press
July 2021

You'll enjoy reading:
The Grandmother Plot
Death isn't unexpected in a nursing home. But murder is.
Freddy leads a life of little responsibility. His mother is dead, his sisters are far-flung across the globe, and he can't quite work up enough motivation to find himself a girlfriend. Freddy has been forced to place his beloved grandmother, now deep in dementia, in a nursing home. Freddy visits her often, cherishing and also hating the time he spends with the grandmother he always adored, now a ghost of her former self.
When a fragile old woman already close to death is murdered in that nursing home, Freddy panics. His sources of income are iffy, as are his friends. He has to keep his grandmother safe, keep himself anonymous, and keep the police out of his life―or the complications could become deadly.
Reviews

"The author does a remarkable job of combining tones, including sentimental and snarky, while being both wry and gently respectful ... Cooney should win new fans with this one."
—Publisher's Weekly, starred review
"Bestselling author Caroline B. Cooney has been perfecting the fine art of thriller writing for decades now, and her latest novel, The Grandmother Plot, will grip you from page one."
—PopSugar
"The characters are so richly detailed that they feel real."
—Kirkus Reviews