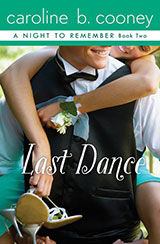 Scholastic, 1987
You'll enjoy reading:
Last Dance
(Book 2 in the Nights to Remember series)
In the second book of Caroline B. Cooney's bestselling Night to Remember series, five high school juniors get ready for the most important night of their lives—a dance that will bring happiness …or heartbreak. For Kip, Anne, Beth Rose, Emily, and Molly, it's the perfect end to their junior year. The night they've been waiting for—a night to wish upon a star. For five very different girls, it's a dance they'll always remember. Will it be a night of love—or loneliness? An ending—or a new beginning?
Reviews
"Complicated, fast-moving…"
—School Library Journal